Lawn Mower Races!
Morton Loggers Jubilee in Morton, WA
August 8th, 2008
Last year I went out to the lawn mower races as a spectator to watch our friend, Joe Diambri race.
By the end of that evening I was hooked and thinking to myself, "I can do that!" So this year I did.
First the important stuff. I have several people I need to thank...
Thank You
To our neighbor Bruce Dwyer and my husband, Brian.
Bruce was the one who found the mower, had the engine rebuilt and between
the two of them, the whole thing came together into a working machine.
To another neighbor, Ardeth Ellis, for taking the old and icky seat cover
and making me a brand new one so I'd have something to sit on. :)
To Geoff Eastman who stopped by to see the mower one night and ended
up pressed into service installing my kill switch and an "off" button
To yet another neighbor (this became a community project!) Dave Gaskill,
for letting us use his trailer to haul the mower out to Morton.
To my Pit Crew- Brian Smith, Wayne Heath (aka My Dad),
Harold "Captain" Broadbent and Joe Diambri
To my Mom for not freaking out too much and sitting
in the stands with Tessa while Brian and I were busy
to everyone who came out to watch, cheer me on and take pictures!
OK, on with the show...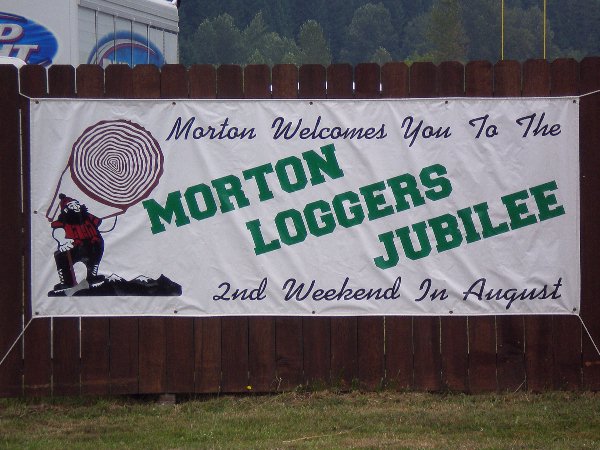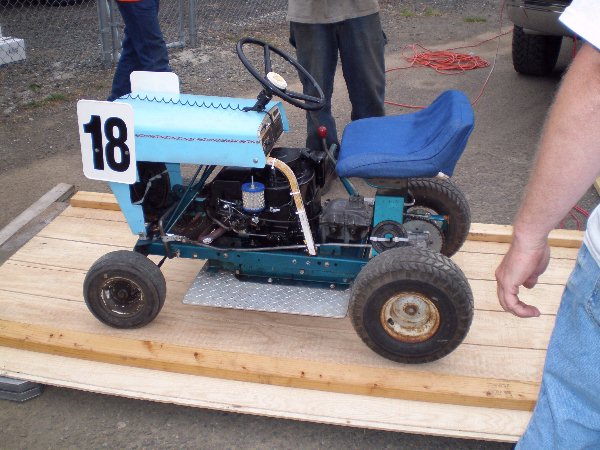 There's my mower on the scale at check in. Every mower had to weigh at least 240 pounds to race.
We weighed mine at home on the bathroom scale (that was an engineering feat) and since we were
light, we had to zip tie on two small weights under the seat and two larger weights inside the front of
the cowling. My mower came in just over the requirement at 241 pounds.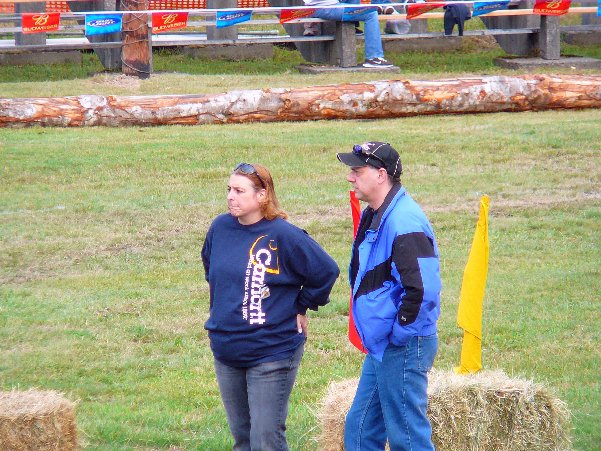 Brian and I out on the track assessing the corners. Most of the turns are left handed but
there was one little right hand jog that gave me trouble every time I went out there.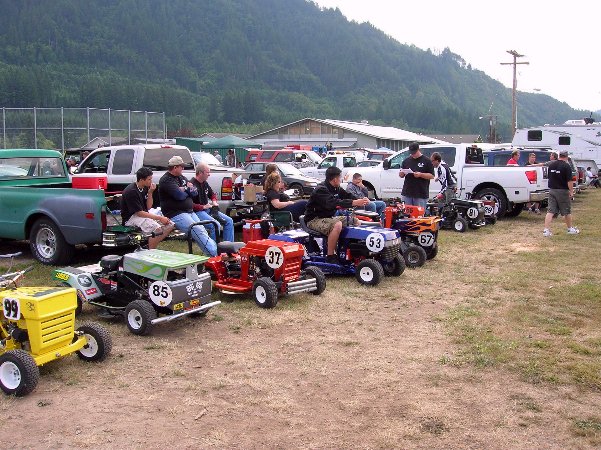 Here are some of the other mowers. We did a lot of waiting.
Waiting for check in to start (the began an hour late), waiting for everyone to get
through check in (we were 5th in line out of about 50 mowers), and waiting for the
gas truck (they provided fuel for everyone to try to make things fair).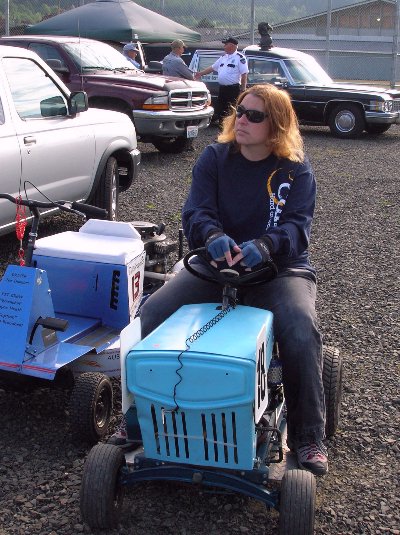 More waiting. And yes, that is a hearse behind me. One of the other female racers, Dionne,
showed up in that. Her husband, Stan, does haunted houses for schools and such
as fundraisers. They definitely got some attention as they rolled into the pits. Dionne and I bonded
because we were both new at this and hadn't a clue what we were doing. :)

Before we could race there was the National Anthem and the raising of the huge American flag
between the two 80-foot climbing poles.
Ready, Set, GO!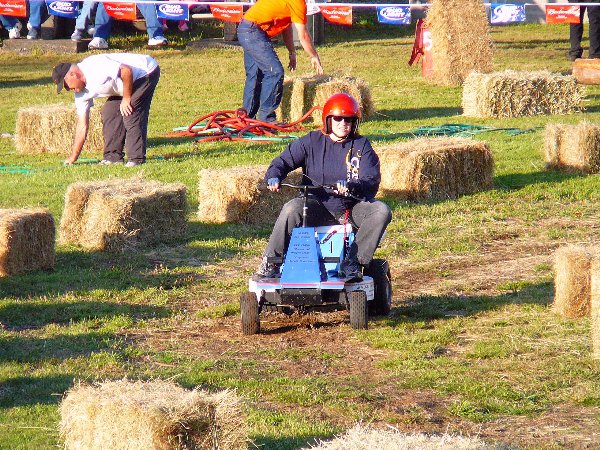 Time trials were first. I know what you're thinking, "That isn't the same mower she was sitting
on earlier is it?" You're right. We had run my mower up and down the pit area several times to
make sure everything was in working order. They announced that all the women needed to report
to the starting gate for time trials so we headed back to the trailer, fired it up and... it wouldn't move.
In the space of about 10 seconds, my chain came off, my belt got chewed to pieces, and my
transmission completely seized.
So I need to add a huge THANK YOU to Joe for not even hesitating to start his up and let me ride
his mower. I had been on his the previous weekend when I was up visiting my parents so I already had
the feel for his mower. I was the last woman out there for time trials (there were 10 women this year)
and even though I didn't get out of 2nd gear (I ended up with the 8th best time) at least I qualified and was
able to move on with the races.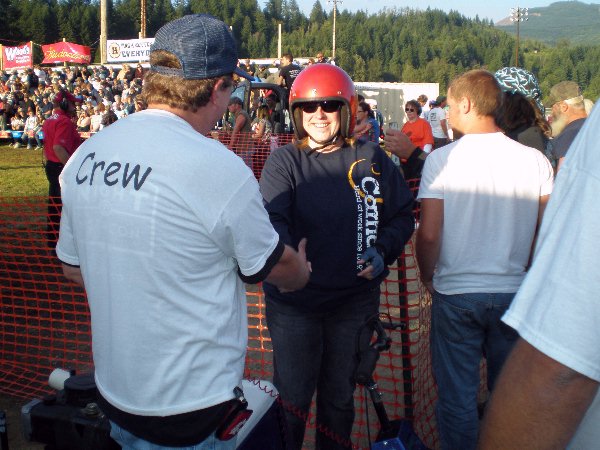 A congratulatory hand shake from my Dad after I finished my time trial. Now that I had a few
laps under my belt and knew I could really do this, I wasn't nervous anymore. What a blast!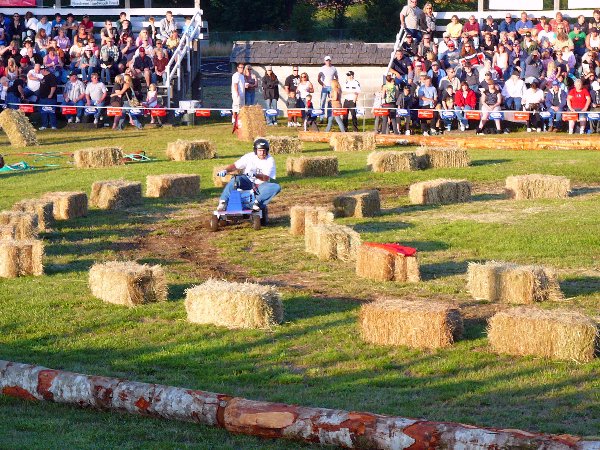 The men got out there next for their time trials- Go Joe!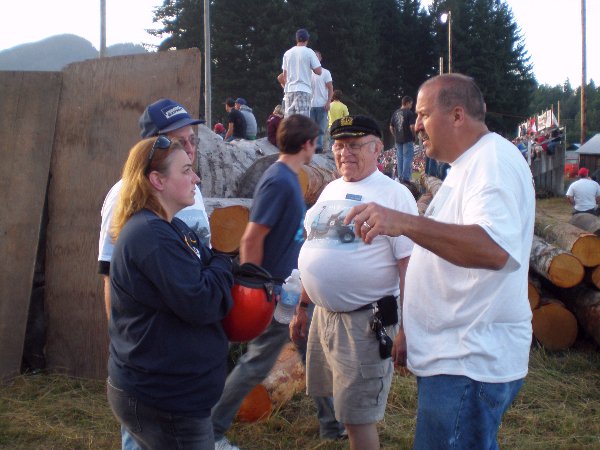 Talking strategy with my Dad, Captain and Joe after the time trails.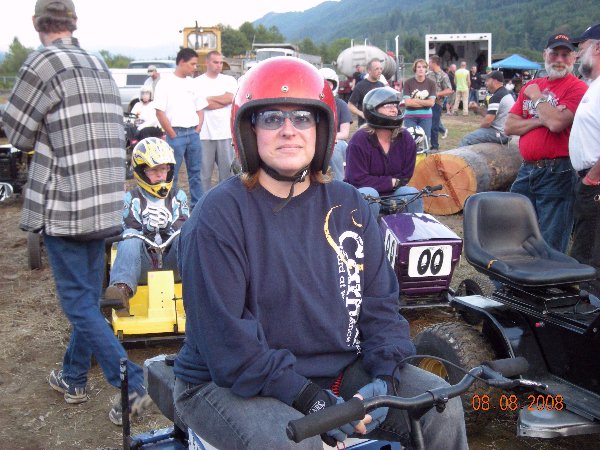 Waiting outside the start gate for the Trophy Dash.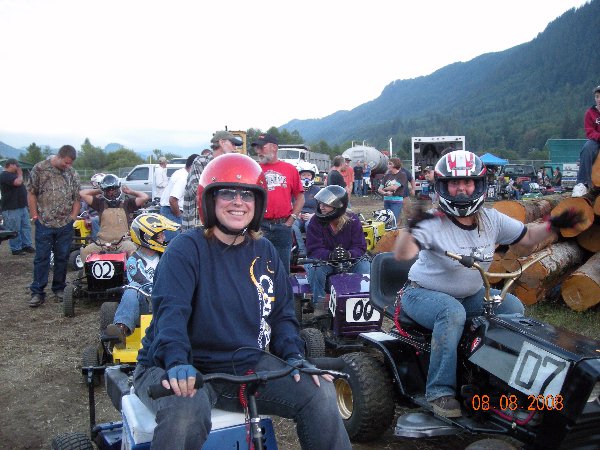 Same as above but with my new buddy, Dionne. She was a wild woman!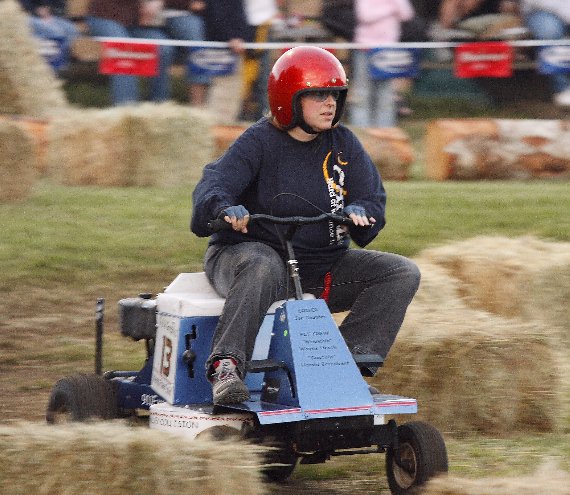 Geoff took this great picture of me coming around the turn!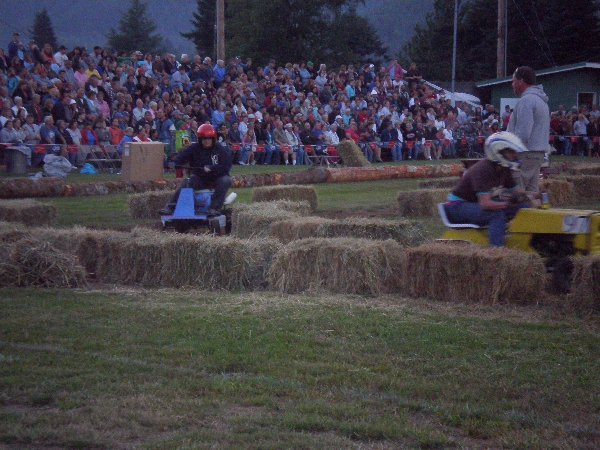 Coming around one of the corners during the Trophy Dash.
Out of 5 women in this heat I came in 2nd! I was thrilled.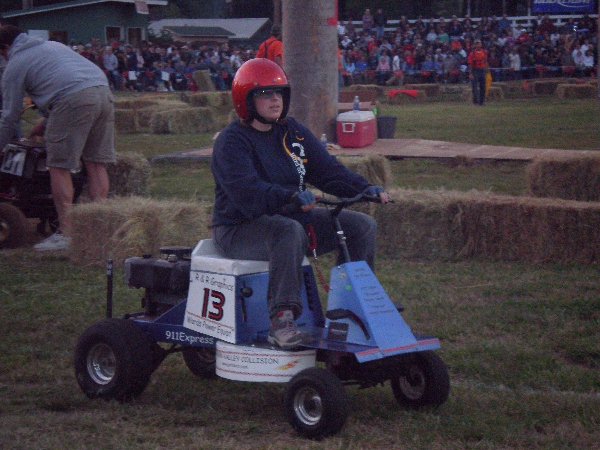 The race was over but I didn't have a clue at the point how I had placed.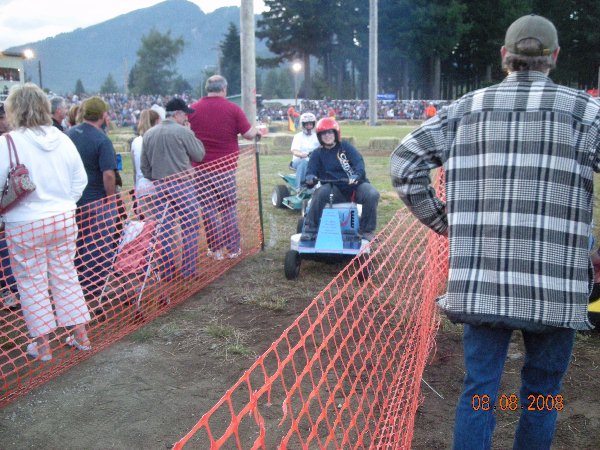 Here I am coming off the course after the Trophy Dash. I did get to race one more time but by then
the sun had set and none of the pictures came out. I raced in the Last Chance Qualifying heat since
I had one of the slower time trial laps. Whoever won that heat got to move up to the Women's "A" Main
event for a shot at the Women's title. I ended up third in that race but since my goal this year was to finish
all the races I went out there for, I was very happy with my results. Lots of the men didn't finish
their races (wrecks or mechanical failure) so I'm pretty proud of myself.
Sorry Mom, but I'll be out here again next year. We need to do a rebuild on my mower but we've
got 12 months to get that figured out...
Back to Valerie's Home Page